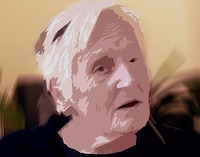 We staan aan de vooravond van een fikse golf van een ziekte waar velen van ons nu al te veel mee kampen, omdat (een van hun) ouders die heeft. Momenteel hebben ruim 280 duizend mensen in Nederland de diagnose dementie, en 100 duizend heeft de ziekte al wel, maar de diagnose nog niet; 80 duizend van alle mensen met dementie wonen in een verzorgings- of verpleegtehuis. Driekwart woont nog thuis, met hulp van hun geliefden, familie en buren (en de thuiszorg).
Het is na kanker en hart- en vaatziekten nu de derde doodsoorzaak. Maar dementie kon alleen maar een volksziekte worden omdat we tegenwoordig over de hele linie langer zijn gaan leven, en – hoe wrang – we verhoudingsgewijs minder snel doodgaan aan kanker en hart- en vaatziekten. Want de botte waarheid is: hoe ouder je wordt, hoe groter de kans dat je dementie krijgt. Dementie is de wraak van de tijd op onze goede gezondheidszorg.
De voorspellingen zijn somber: in 2040 zullen naar schatting ruim een half miljoen mensen de ziekte hebben; dat is bijna een verdubbeling van het huidige aantal. Een geneesmiddel of ziekteremmer is niet in zicht.
Hoe verder ik mijn eigen moeder zie wegzakken, hoe meer ik ervan overtuigd raak dat ik deze beker, mocht hij zich aandienen, aan mijzelf voorbij laat gaan. Want het is geen zacht wegzakken, dat van haar. Alle verhalen van 'ach, ze genieten nog zo,' ben ik als zuivere dementiekitsch gaan zien.
Mijn moeder wilde, toen ze nog helder was, ook beslist niet zo worden: ze had al haar wensen besproken, haar euthanasieverklaringen lag klaar, maar door die rotziekte zelf raakte ze de draad dusdanig kwijt dat ze maandenlang ontkende dat er ook maar iets mis was, gevolgd door periodes van woest verzet, wantrouwen en achterdocht, en maanden waarin ze vooral vaak zachtjes huilde en diep ongelukkig was. Ze wilde geregeld dood – maar niet consistent genoeg dat we daar werk van kon maken, nog los van het feit dat er amper artsen zijn die mensen die aan dementie lijden, willen helpen te sterven. Dus deden we niets.
En nu zit ze daar maar. De andere dames op haar afdeling zijn al even inert. Ze legt soms haar hoofd op tafel, in haar handen, en soms snikt ze geluidloos. En ze wil graag met mijn vader mee en bij hem slapen. Ze leeft in het moment, maar daarin gebeurt amper iets – want wat er gebeurt, vergeet ze weer snel.
Ik heb me voorgenomen dat ik mezelf ver voor die tijd van kant maak. En ik ben niet de enige, getuige de grote aantallen mensen die naar een laatste-wil-pil zoeken of die graag het een dosis van befaamde poedertje van de Coöperatie Laatste Wil zouden bemachtigen.
Statistiek houdt geen rekening met paradoxen. Naarmate meer mensen uit de eerste hand meemaken hoe verwoestend dementie huishoudt, en hoe ingrijpend en moedeloosmakend die ziekte is voor de zieke zelf en voor zijn of haar intimi, zullen meer mensen – zo vermoed  ik – zeggen: ik niet. Ales om niet dement te worden.
[Beeld: Pixabay]