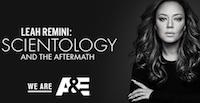 Er zijn inmiddels flink wat hoge lui bij Scientology vertrokken, wat tot een hausse in documentaires leidde. De beste serie tot nu toe is wel 'Scientology and the Aftermath' van soapactrice Leah Remini, die opgroeide binnen de sekte en na een lidmaatschap van ruim dertig jaar in 2013 uittrad. Remini schreef een boek over haar ervaringen, legde contact met andere ex-leden, en zette haar nieuwe netwerk in voor de serie. Ze kreeg er dit jaar een Emmy voor, en terecht.
Vergezeld van de eveneens uitgetreden Mike Rinder, jarenlang de internationaal woordvoerder van Scientology annex hoofd van hun inlichtingendienst (in de rechtszaken die de sekte tegen mij en mijn toenmalige geliefde aanspande, heb ik meermalen met hem te maken gehad), bezoekt Remini een stoet mensen. Ze legt feilloos de vinger op alle zere plekken: vrouwen die routineus tot abortus worden geprest omdat hun zwangerschap de sekte 'slecht uitkomt'; families die verplicht worden alle contact met uitgetreden gezinsleden te verbreken; seksueel misbruik en geweld – ook jegens kinderen – dat onder tafel wordt geveegd; de gewelddadige uitbarstingen van David Miscavage, de huidige leider van Scientology; hoge leden die soms jarenlang gevangen worden gehouden; de eindeloze pressie om meer te doneren, weer een dure cursus te doen – het houdt maar niet op.
Een advocaat die een hoog ex-lid verdedigde toen de sekte na haar vertrek een zaak tegen haar aanspande, verzucht in een aflevering: "De tegenpartij maakt je cliënten vaak zwart; ik ben dat gewend, ik heb heel wat akelige zaken gedaan. Maar nooit, werkelijk nog nooit in mijn leven heb ik meegemaakt dat de tegenpartij mij, de advocaat, persoonlijk aanviel, en geloof me: het was niet mis wat ze bij mij uithaalden."
De rol van Rinder, die trouw bij alle interviews aanschuift, is drieledig. Soms geeft hij achtergrondinformatie: hoe zit het beleid van de sekte precies in elkaar, waarop is het gebaseerd etc. Vaak weet hij uit zijn lange geschiedenis als insider de verhalen van de geïnterviewden te onderbouwen, en dist hij details op die alleen bij de hogere echelons bekend waren. En soms krijgt hij de tranen in zijn ogen wanneer een geïnterviewde vertelt: hij zit daar, zo proef je dan, ook deels om boete te doen. Want hij was immers hoogstpersoonlijk Scientology's enforcer.
Remini verdient alle lof voor hoe ze deze precaire interviews aanpakt. Ze steunt, ze troost, ze weerlegt, ze vraagt door, ze relativeert, ze legt bloot.
Elke aflevering opent ze met de beschuldigingen die de sekte publiceerde over de mensen die ze spreekt, net zoals ze haar afleveringen doorspekt met passages uit de advocatenbrieven die ze zelf ontving. "De Scientologykerk ontkent dat…" "De kerk herkent zich niet in…" "De kerk heeft geen behoefte aan…"
Na verloop van tijd werkt het als een buitengewoon effectief stijlmiddel. De kerk weet van niets en ontkent alles. Maar de ex-leden vertellen intussen honderduit, nu al voor het tweede seizoen.