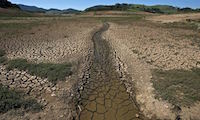 Het warmste jaar, de minste regen, de laagste watervoorraden – het gaat maar door. Wat zijn wij mensen toch goed: elk seizoen verslaan we weer een record. Climate change for the win!
In Californië zijn restricties opgelegd aan watergebruik. Wie zijn gazon te rijkelijk besproeit – en misschien was het sowieso geen geweldig idee om een gazon aan te leggen wanneer je feitelijk in een woestijngebied woont, maar alla: ook de zucht naar gras heeft historische wortels – krijgt tegenwoordig fikse boetes.
Maar excessief privégebruik beboeten is niet de oplossing. Het probleem is structureel: we putten de aarde uit, en bedrijven zijn nog steeds ontheven van een realistische belasting op hún gebruik. We straffen privépersonen maar laten de structuur van het misbruik intact. We weten al decennia dat de Colorado, de rivier die zowat alle zuidwestelijke staten van de VS van water voorziet, door structureel misbruik aan het opdrogen is. Een gazon meer of minder besproeien lost dat probleem heus niet op.
Een stuk zuidelijker, in Brazilië, is het watertekort nijpender. In sommige steden daar gaat de kraan tegenwoordig onverwacht dicht en is schoon water een gunst geworden. Afgelopen jaar zaten hele steden er geregeld zonder water, en dit jaar is São Paulo – met 20 miljoen inwoners de grootste stad van heel Zuid-Amerika – ten prooi gevallen aan een serieus watertekort.
Het regenseizoen hebben ze daar nu net achter de rug, de droge maanden komen eraan: en nu al staan alle waterreservoirs op een all-time low: zo ongeveer twintig procent van hun 'normale' capaciteit. En terwijl burgers zodoende worden gedwongen om hun eigen water te recyclen – opgevangen douchewater is inderdaad best goed genoeg om als poetswater te gebruiken – doet de overheid amper iets aan het probleem zelf.
Brazilië lijdt onder de ontbossing van de Amazonewouden. Platgelegde gebieden houden regenwater niet langer vast, en de hele waterhuishouding van het land verandert aldoende.
Er valt regen zat rond São Paulo, aanzienlijk meer dan in notoir natte steden als Seattle of Londen, dus dat is het probleem niet. Maar rivieren en bassins daar lekken zich een slag in de rondte, en steeds meer grondwater is vervuild geraakt door de industrieën die denken dat zij meer recht op schoon water hebben dan gewone burgers.
En de infrastructuur is kapot. Leidingen lekken, goed water sijpelt weg in de grond, en omdat door overindustrialisering goed water schaars is geworden boort half São Paulo – met haar ondergrondse rivieren – zelf naar water. Wanneer het regent, overstromen de straten, terwijl de stad tegelijkertijd niet langer in staat is haar burgers schoon water uit de kraan te garanderen. Schoon water moet je daar tegenwoordig kopen: in flessen, in winkels.
Brazilië heeft structurele hervormingen nodig. Maar al het geld daarvoor is uitgegeven aan de infrastructuur voor het WK voetbal, en de Olympische Spelen cvan 2016.
Sport is dodelijk. Net als kortzichtigheid.