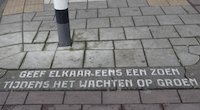 De meeste fietsers houden zich gewoon aan de verkeersregels, sommige fietsers zijn zelfs ronduit galant. Alleen vallen de fietsers die zich nergens aan storen natuurlijk veel meer op, waardoor het dus alleen maar lijkt alsof de Amsterdamse fietsers zich in grote getalen aan hufterigheid en kamikazegedrag hebben overgeleverd. Dat was zo ongeveer de stelling in de fiets-PS van het afgelopen weekend.
Allemaal waar. Maar zelf zit ik vaak als vreemde eend in de bijt tussen de fietsers, en het valt me al een paar jaar op dat het aantal transgressies flink stijgt. Mijn Canta bevind zich tussen tafellaken en servet: te klein voor de weg, te groot voor het fietspad. Vaak kies ik voor het fietspad, aangezien dat tempo beter past, en ik me tussen de auto's niet altijd veilig voel.
En ja, ik weet dat ik dan een obstakel ben voor fietsers. Ze kunnen niet makkelijk om mijn autootje heen, ik belemmer hun zichtlijnen, ze voelen zich soms door me opgejaagd. Meestal probeer ik daarom 'bescheiden' te zijn op het fietspad. Maar dat gaat minder makkelijk, ik stuit steeds vaker op fietsers met een kort lontje dan vroeger.
Heb ik een bosje scholieren voor me die kletsend en giechelend naast elkaar rijden, dan hou ik bewust afstand. Passeren durf ik ze zelden, want die guppies slingeren nogal, zeker als ze de slappe lach krijgen. Maar de fietsers achter me worden bozig: die willen vaart maken, en zien niet dat er dan kinderen voor mijn wielen kunnen komen.
Fietsers gaan er geregeld dat het fietspad van hen alleen is, ook wanneer dat door een zebrapad wordt onderbroken. Wanneer ik stop voor een voetganger die daar wil oversteken, zoeven de fietsen links en rechts langs mijn autootje, en rijden zo'n voetganger haast van hun sokken. In het voorbijgaan kijken de langs scherende fietsers boos naar me om: moesten zij verdorie uitwijken omdat ik zo nodig moest stoppen.
Zorgde de opkomst van losse ledlampjes er een jaar of acht geleden voor dat 's avonds – eindelijk, en godlof! – zowat alle fietsers goed zichtbaar waren, inmiddels heeft de meerderheid de fietsverlichting alweer opgegeven. Doodeng, zeker bij regen. Want als fietser heb je geen idee hoe belazerd slecht je in het donker te zien bent. Een overschatting van je eigen aandeel speelt daarbij een rol: denken dat je zelf heus wel in de gaten kunt houden wat de rest van het verkeer doet,. Maar wanneer een grotere weggebruiker jou simpelweg niet kan zien, heb je per definitie geen controle over de situatie, en verlies je makkelijk het pleit.
Soms wilde ik wel dat alle verkeersdeelnemers verplicht een dagje op andermans wielen door de stad moesten rijden: alle fietsers in een Canta, alle chauffeurs op de fiets, alle scooterrijders in een rolstoel, en zo voort. Pas dan krijg je enigszins besef hoe de risico's die je zelf met gemak denkt te kunnen nemen, uitmonden in hartverzakkingen van de andere verkeersdeelnemers.
Alleen jammer dat ik niet fietsen, scooteren of autorijden kan.