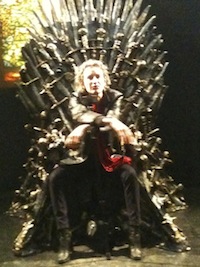 The best selfie evar!
Daar zit ik dan op de Throne of Swords. 't Is mij eerder gelukt dan Daenerys Targaryen om op de troon plaats te nemen…! Ik zit er net als Ned Stark eerder deed: wijdbeens en leunend, hoewel Ned op zijn zwaard Ice steunde, en ik gewoon op mijn stok. Maar ik draag net als hij een leren jas :)
Achtergrond: HBO heeft een rondreizende tentoonstelling ingericht, waar allerlei authentieke parafernalia uit Game of Thrones zijn te zien – van de kleding van de hoofdpersonen, de banners van de grote huizen, plus allerlei juwelen (zoals de pin van de Hand of the King), bokalen, en andere voorwerpen (ook de ketting van Maester Luwin zit erbij). Alle voorwerpen zijn echt. Ice is een serieus zwaard, de schakels van Luwin bestaan allemaal echt uit andere metalen, de glazen fonkelen en de jurken zijn op voethoogte echt platgetrapt en wat viezig.
De tentoonstelling arriveerde afgelopen weekend in Amsterdam, er waren lange rijen. De tentoonsteling zou maar een paar dagen duren. Kans verkeken.
Toen ik donderdagmiddag door de Haarlemmerstraat reed, langs de Posthoornkerk, zag ik plots dat de expositie er nog steeds was, en dat van rijen geen sprake was. Reden genoeg om de Canta subiet te parkeren en snel even naar binnen te gaan.
Ik heb mijn neus in het bont van Jon Snows kraag gestopt, heb de snit van de jurken van Daenerys bewonderd, de drakeneieren bekeken en me verwonderd klein Melisandre moet zijn, gebaseerd op de lengte van haar jurk.
En ik heb dus op die troon gezeten.
Hier de foto nogmaals, maar nu iets groter (ja hij is onscherp, want genomen door een andere bezoeker, met mijn iPnone. Maar hij is mooi zat!):