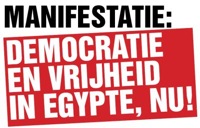 Vandaag, zaterdag 5 februari, van 16:00 tot 17:00, is er op de Dam in Amsterdam een demonstratie voor Egypte. De organisatie is in handen van de Nederlandse tak van de Egyptische 6 Aprilbeweging en de SP. De 6 aprilbeweging, begonen in 2008, pleit voor beëindiging van de jarenlange noodtoestand in Egypte; voor persvrijheid; voor onafhankelijke rechters, voor vrije verkiezingen, met buitenlandse waarnemers en voor een nieuwe grondwet. Mohamed El Baradei is een van de meest vooraanstaande leden van de 6 Aprilbeweging.
Kom ook! Want hoewel ik niet geloof dat het in the grand scheme of things ook maar ene zak uitmaakt of wij daar nu staat of niet, is het voor het moraal van de demonstranten in Egypte buitengewoon goed om te weten dat overal ter wereld mensen hun moed prijzen en hun doelen ondersteunen – dat we met hen meeleven, al is het van ver.
Vandaar ook dat het me een eer is dat ik straks tijdens die manifestatie mag spreken.