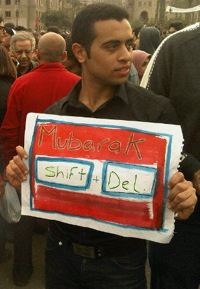 Mubaraks huurlingen zijn gisteren doorgegaan met aanvallen op de demonstranten; er zijn doden, en honderden gewonden. Het leger duwde de huurlingen soms wat weg maar heeft nog steeds niet echt ingegrepen. Tahrir Square is desondanks nog steeds in handen van de democraten. Zij hebben vandaag tot D-Day benoemd: The day of departure, de dag van Mubaraks vertrek. Tahrir Square loopt opnieuw vol.
Gisteren zijn minstens 24 buitenlandse journalisten in Egypte aangehouden (en daarna meestal weer vrijgelaten, na veel gedreig en inbeslagname van hun apparatuur). En minstens 21 andere journalisten zijn door Mubaraks huurlingen aangevallen en gewond geraakt, waarvan sommigen ernstig. Veel journalisten zijn inmiddels het land uitgezet. (Update: een Egyptische journalist is inmiddels overleden, een Zweede journalist ligt nog in het ziekenhuis.)
Amerika's taalgebruik wordt stelliger. The New York Times meldde vannacht dat de VS onderhandelt over Mubaraks vertrek, en dan Omar Suleiman als vervanger ziet. Suleiman? De man die duizenden Egyptenaren heeft laten martelen? De man die aan het hoofd van het rendition programma stond? (Rendition: de VS die gevangenen naar het buitenland overbracht om ze daar te martelen, in de hoop bekentenissen los te peuteren. De VS deed dat 's buitenlands om zodoende hun eigen wetgeving te kunnen ontduiken.) Lees hier, hier, en hier.