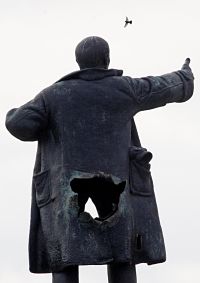 Gisteren zag ik een oud exemplaar van nrc.next liggen toen ik bij een klant een rookpauze nam. Ik sloeg het blad open. Op pagina drie stond een grote foto van het beeld van Lenin dat afgelopen woensdag door een explosie ernstig was aangetast. Je ziet de betreffende foto hiernaast.
Ik keek ernaar en al na een seconde kon ik mijn lachen niet inhouden. De mevrouw die tegenover me zat te roken keek me nieuwsgierig aan, dus ik schoof de krant naar haar toe. En zij reageerde net zo. We kregen uiteindelijk alletwee de slappe lach en toen we waren bijgekomen heb ik voor ons alletwee een fotokopie gemaakt.
Of 't zo bedoeld was of niet, wie zal het zeggen. De explosie vond plaats op 1 april, dus er is gerede kans dat dit precisiewerk was. Want zeg nou zelf: het ziet er toch uit alsof Lenin zo'n tetterende scheet heeft gelaten dat zijn jas erdoor aan flarden is gescheurd?