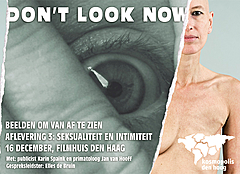 Dinsdag 16 december ben ik te gast in Den Haag, bij Kosmopolis, in hun debatserie over film en tv: 'Don't Look Now'. Het is de derde aflevering in de serie en deze gaat over seksualiteit en intimiteit:

…een avondprogramma over de grenzen van de verbeelding van het intieme. Samen met het publiek zoeken we deze grenzen op. Hoe wordt ons gedrag door beelden beïnvloed, leidt seksuele confrontatie tot jaloezie, tot schaamte of tot apathische verveling, waarbij de dagelijkse porno ons telkens weer visueel moet ophitsen?

Deze avond wordt ingeleid door de primatoloog en gedragswetenschapper Jan van Hooff. Hij vertelt over de effecten op ons gedrag van beelden van intimiteit en naar reactiepatronen van jaloezie en schaamte die mens en dier vertonen op onverhulde confrontatie met seksualiteit. Daarna kijkt u mee – of kijkt u weg – met de beeldkeuze van een van de vier gastheren en -vrouwen. Vanuit hun verschillende culturele achtergronden hebben zij een keuze van beelden gemaakt: zo zullen de grenzen van het intieme telkens weer anders ervaren worden.

Schrijfster Karin Spaink en gespreksleider Elles de Bruin gaan daarna met het publiek in op hun ervaringen. Aan het eind van de avond weten we misschien hoe beelden van seksualiteit op ons gedrag inwerken, wat gevoelens van ongemak ons kunnen leren over onszelf en welke diepere evolutionaire processen die schuilgaan onder culturele taboes.

Net als bij de eerdere Kosmopolis-avonden in deze serie Don't Look Now (over 'Beeld en Religie' en 'Beeld en Geweld') is uw actieve deelname van belang. Meepraten dus, maar ook mee-eten: u kijkt mee met een maaltijd op schoot.