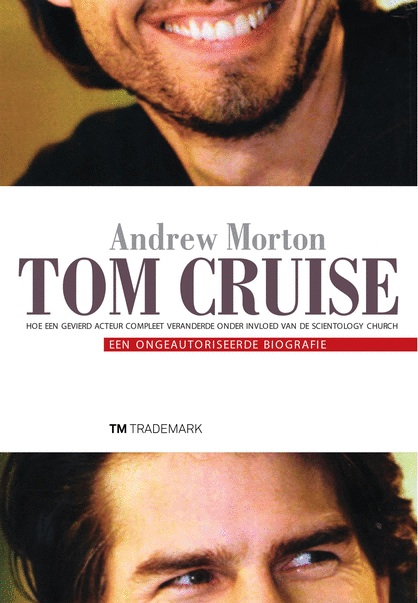 Details:
Door Andrew Morton – voorwoord Karin Spaink – Uitgeverij TM – Amsterdam, mei 2008 – ISBN: 978-90-499-00724 – 336 pagina's – 16,95 euro
Bestellen:
Flaptekst:
Tom Cruise begon zijn glansrijke carrière als jonge, succesvolle acteur met de wereld aan zijn voeten. Na blockbusters als Top Gun, Rain Man en Jerry Maquire leek zijn sterrenstatus grenzeloos, maar inmiddels kennen we ook andere kanten van Cruise' charmante Hollywoodverschijning.
Als fanatiek aanhanger van de spraakmakende Scientology Church raakte hij regelmatig in opspraak, of hij de moderne psychiatrie nu fel veroordeelt als nazi-leer, actrice Brooke Shields aanvalt over het gebruik van antidepressiva tijdens haar postnatale depressie of een bizar wervingsfilmpje maakt voor de Church.
Biograaf Andrew Morton vroeg zich net als zovelen af hoe het mogelijk is dat Cruise, en vele rijke, geslaagde en beroemde mensen met hem, veranderd is in een fanatiek sectelid. Hij schreef een spraakmakend boek over zijn theorieën en bevindingen waarin hij een kritisch beeld geeft van de echte Tom Cruise – zijn privéleven, zijn huwelijk met onder andere Nicole Kidman en Katie Holmes en zijn rol in het mysterieuze wereldje van de Scientology Church.