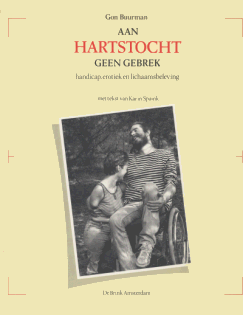 Details:
Aan hartstocht geen gebrek: handicap en lichaamsbeleving – Foto's: Gon Buurman – Tekst: Karin Spaink – Uitgeverij Ploegsma/De Brink – Amsterdam 1991 – ISBN 90216-7001-1 – 112 pagina's
Bestellen:
Probeer het tweedehands…
Flaptekst:
Mensen met een lichamelijke handicap laten op een ontwapenende manier zien hoe zij met hun lichaam omgaan en er plezier aan beleven. Alleen of samen, ieder op eigen wijze in eigen omgeving. Zij poseren zonder spoor van heimelijkheid of schaamte. De tekst onderstreept dat. Hoe gehandicapten hun lichaam ervaren, er soms mee vechten maar er ook mee verleiden en ervan genieten, wordt openhartig beschreven. Dit boek wijkt daardoor af van de gangbare wijze waarop naar hen wordt gekeken: als onderwerp van zorg of medelijden, stiekem of met schroom. Het maakt duidelijk dat een handicap hebben niet betekent dat het lichaam afgeschreven is, tot ballast verworden: het mag dan soms anders functioneren, het functioneert wel degelijk – ook seksueel.
Gon Buurman fotografeert al ruim tien jaar. Naast verschillende opdrachten op het gebied van de maatschappelijke hulpverlening maakte ze een serie vrouwenportretten onder de naam Poseuses. Voor het boek Een onbesproken kinderwereld nam ze een groot aantal foto's van kinderen die de armoede treffend tonen. Zij geeft vaak mensen weer die door de samenleving aan de zijlijn worden gezet en accentueert vooral hun kracht en schoonheid.
Karin Spaink schrijft al zolang ze zich kan herinneren. Vaak zijn erotiek en seksualitieit en de daarmee verband houdende thema's het onderwerp. Ze publiceerde in verscheidene tijdschriften en schreef bovendien Pornografie, bekijk 't maar en De Venus van Milo in de betonmolen. Haar tekst geeft haarscherp en in heldere bewoordingen weer wat de essentie is van handicap, lichaamsbeleving en erotiek.
De Gehandicaptenraad heeft opdracht gegeven tot dit opzienbarende boek waarin de mens centraal staat en niet de handicap.