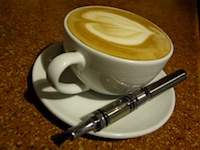 Nuttige links naar wetenschappelijk onderzoek naar dampen, nicotine, PG en VG, steun uit onverwachte hoek voor dampen, etc. De reden dat ik zo'n lijstje hier wil bijhouden?
Het stikt de laatste weken van de negatieve berichten over dampen en de e-sigaret. Het zou kankerverwekkend zijn, het is even erg als roken — dat werk. Het vreemde is dat positief nieuws -zoals bv de bevindingen van het Trimbos Instutuut de afgelopen week: zij waren er relatief opgewekt over- juist weer nergens worden genoemd. Natuurlijk is 'slecht' nieuws veel smakelijker, maar de positieve berichten horen niet zomaar te verdwijnen. Dus vandaar. En ja, ook dit is cherry-picking, alleen dan aan de andere kant.
Nieuwe links komen bovenaan te staan, dit in verband met de leesbaarheid.

20. Linda Bausch, gerennommeerd kankeronderzoeker in de UK, heeft onderzocht wat er waar is van de claim dat e-sigaretten veel first time users onder jongeren scheppen, oftewel: dat kinderen / jongeren die nooit hebben gerookt door de hippe e-sig over de streep worden getrokken en nu naar een dampertje grijpen en dus aan de nicotine raken. "Of the 1,205 children aged 11-16 who took part in the new UK-wide survey, 12 percent reported that they had tried an e-cigarette. Figures for regular use were lower with two percent reporting e-cigarette use more than monthly and one percent more than weekly… Regular e-cigarette use among non-smoking children was low at three percent."
– Nonsmokers Becoming Regular E-Cigarette Users is Very Unlikely, 29 June 2015.
19. Derek Yach, die aan de wieg heeft gestaan van het anti-rookbeleid van de World Health Organisattion [WHO], doet een dringende oproep aan overheden en gezondheidsorganisaties om het dampen niet langer af te kraken. De damprevolutie is, zo zegt hij, het beste wat de antirook-lobby is overkomen, maar ze weigeren dat in te zien.
– Derek Yach, 'E-cigarettes save lives. I understand why anti-smoking activists so distrust vaping. I'm one of them. But the evidence is clear', Te Spectator [cover feature], 21 February 2015.
18. Een degelijk uitgevoerd universitair onderzoek liet zien dat e-sigaretten vrijwel onschadelijk zijn: de damp die er vanaf komt, is nagenoeg hetzelfde als de buitenlucht. Nagenoeg, als in: daar amper van te onderscheiden. Het niveau van de aangetroffen mogelijk gevaarlijke stoffen (HPHC's) in de damp van een elektronische sigaret ligt net zo laag -of, als u wilt: zo hoog- als de hoeveelheid schadelijke stoffen die in de buitenlucht worden aangetroffen. Andere bevindingen: het nicotinegehalte in de damp van een e-sigaret is 85% lager dan in sigarettenrook, er worden geen significante schadelijke stoffen in de e-sigaret aangetroffen, en tabaksrook is circa 1500x schadelijker. De onderzoekers benadrukken het grote potentieel van dampen: schadebeperking en gezondheidswinst.
– Rana Tayyarah en Gerald A. Long (what's in a name?), Comparison of select analytes in aerosol from e-cigarettes with smoke from conventional cigarettes and with ambient air, Regulatory Toxicology and Pharmacology, Volume 70, Issue 3, December 2014.
17. The American Journal of Preventive Medicine weerlegt de claim dat dampen een opstapje is naar het 'echte' roken. Een onderzoek bij 1304 studenten van een universiteit van Oklahoma vond dat slechts 3 studenten van deze populatie, eerst electronische sigaretten gebruikten voordat ze echt tabak gingen roken. Ook suggereert dit onderzoek dat het verslavende potentieel van ENDS (electronic nicotine delivery systems) vrij laag is.
– Meier et al, Which Nicotine Products Are Gateways to Regular Use?, The American Journal of Preventive Medicine, januari 2015.
16. De tien verrassende positieve kanten van nicotine. De afgelopen decennia is het erin geramd dat roken slecht is. Maar nicotine sec -dus zonder tabak- heeft allerlei positieve effecten, en sinds de entrée van het dampen kunnen we nicotine en tabk voor het eerst scheiden. In dit artikel worden er een aantal op een rij gezet, met verwijzingen naar studies, etc.
15. De KU Leuven verdeelde voor een onderzoek rokers die niet van plan waren te stoppen, in twee groepen: de ene groep kreeg een e-sigaret, de andere niet. Wat bleek? De groep die e-sigs kreeg, stopte overwegend met roken. Later kreeg ook de controlegroep een e-sig. "Op het einde van de acht maanden durende studie onthield 21% van alle deelnemers zich volledig van het roken van tabak (biologisch geverifieerd, via CO-meting). Over alle groepen heen was het aantal gerookte tabakssigaretten per dag afgenomen met 60%. [..] Ter vergelijking: van alle rokers die louter op wilskracht proberen te stoppen, slaagt slechts 3 à 5% erin 6 tot 12 maanden rookvrij te blijven na een stoppoging."
– KU Leuven, Elektronische sigaret vermindert drang naar tabak gevoelig, 14 nov 2014.
14. De American Council on Health and Science noemt (alweer) een studie waaruit blijkt dat er geen noemenswaardige (lees: traceerbare) toxische of mutagene stoffen gevonden zijn in de damp van electronische sigaretten. De onderzoeker was Dr. Manoj Misra. In een commentaar schreef ACSH: "As more and more science on the lack of harm expected from e-cigs and their vapor come pouring in, it will — I hope — become harder and harder for those who mindlessly or corruptly oppose this lifesaving technology to participate in their destructive chorus. Prior studies, by Drs. Farsalinos on heart cells, Goniewicz and Burstyn on chemicals in e-cig vapor (i.e. their minute quantities), as well as on the general safety of vaping, as e-cig use is called, will continue to accumulate and eventually overwhelm the nay-sayers — IF the regulators and politicians will permit it."
– ACSH: Yet another study shows absence of e-cigarette toxins, Nov 3, 2014.
13. Het Center for Study Research van de University of Massachusetts in Boston is een studie uitgevoerd naar het stoppen met roken. Eén van de conclusies was dat rokers die tenminste één maand electronische sigaretten hebben gebruikt, zes keer zo veel kans hadden om te stoppen met roken.
– UMass Boston Study: 'Smokers Who Use E-Cigarettes Regularly More Likely to Quit Tobacco', October 30, 2014, en Biener & Hargraves, A Longitudinal Study of Electronic Cigarette Use in a Population-based Sample of Adult Smokers: Association with Smoking Cessation and Motivation to Quit , Oxford Journal, Oct 9 2014.
12. De Amerikaanse onderzoeker Michael Steinberg vergeleek nicotine-inhalers met e-cigs. Resultaat: e-cigs helpen twee keer zo goed bij het stoppen met roken. "The e-cigarette had a higher total satisfaction score and higher reward score than the inhaler. The e-cigarette received higher ratings for helpfulness, acceptability, and "coolness. More subjects would use the e-cigarette to make a quit attempt (76%) than the inhaler (2 %). Eighteen percent (7/38) of subjects abstained from smoking during the 3-day periods using the e-cigarette vs. 1 % (4/38) using the inhaler."
– MB Steinberg et. al., E-Cigarette Versus Nicotine Inhaler: Comparing the Perceptions and Experiences of Inhaled Nicotine Devices, J Gen Intern Med., May 15 2014.
11. Een studie van de Oklahoma State Univerity suggereert dat mensen die gaan dampen, niet alleen gaandeweg minder gaan roken (of daar zelfs helemaal mee stoppen), maar ook steeds lager in hun nicotinegehalte gaan zitten. Dampen lijkt een goede methode om te stoppen met roken, en/of om te minderen met nicotine.
– Lechner et. al., Effects of Duration of Electronic Cigarette Use, Oxford Journal of Nicotine and Tobacco Research, May 13, 2014.
10. Prof. Riccardo Polosa (Universiteit van Catania) bestudeerde veranderingen in de luchtwegen van 18 dampende, voorheen rokende astmapatiënten. De studie toonde een aanzienlijke verbetering aan van de ademhalingsfunctie. Bewijzen van verbetering werden ook gevonden bij zogenaamde dual gebruikers, die door het gebruik van de e-sigaret niet volledig met roken zijn gestopt maar wel aanzienlijk minder sigaretten consumeren.
– Riccardo Polosa et. al., 'Effect of Smoking Abstinence and Reduction in Asthmatic Smokers Switching to Electronic Cigarettes: Evidence for Harm Reversal', International Journal of Environmental Research and Public Health, 8 mei 2014.
9. Het Britse ASH – Action on Smoking and Health, zeg maar de pendant van Stivoro – heeft een factsheet over het gebruik van de e-sig in Engeland gepubliceerd. Hun bevindingen:
• Van de 2,1 miljoen Britse e-sig gebruikers is 1/3 volledig gestopt met roken;
• Van een gateway-effect onder de jeugd is geen sprake;
• Dual users (die roken én dampen) gebruiken meestal wegwerp e-sigs of voorgevulde cartridges;
• Voormalige rokers die helemaal op dampen zijn overgestapt, gebruiken meestal een navultank (wat de EU liefst wil verbieden).
– Action on Smoking and Health: Use of electronic cigarettes in Great Britain', april 2014 (pdf).
8. Dr. Konstantinos Farsalinos heeft onderzoek gedaan onder 19.500 dampers. Ruim 80% van hen is totaal gestopt met roken, slechts 0,5% had nooit eerder gerookt, en de rest is aanzienlijk minder gaan roken Dampen blijkt een effectieve tabaksvervanger.
"The results of this worldwide survey of dedicated users indicate that ECs are mostly used to avoid the harm associated with smoking. They can be effective even in highly-dependent smokers and are used as long-term substitutes for smoking. High levels of nicotine are used at initiation; subsequently, users try to reduce nicotine consumption, with only a small minority using non-nicotine liquids. Side effects are minor and health benefits are substantial, especially for those who completely substitute smoking with electronic cigaret use."
– Konstantinos Farsalinos et. al.: Characteristics, Perceived Side Effects and Benefits of Electronic Cigarette Use: A Worldwide Survey of More than 19,000 Consumers, Int. J. Environ. Res. Public Health. april 2014.
7. Gerry Stimson, emeritus professor Public Health, spreekt zijn verontrusting uit over de starre houding van de gezondheidszorg jegens de e-sig. "The caution exhibited by public health experts has led to a chasm between them and consumers: evidenced by comments on social media, many e-cigarette consumers see public health as the enemy of health and consumer choice. This should be cause for sober reflection by public health professionals and is an extraordinary situation that needs to be remedied from both sides to maximize the public health potential of safer alternatives to smoking."
– Gerry V. Stimson: Public health leadership and electronic cigarette users, Oxford University Press on behalf of the European Public Health Association, april 2014.
6. Oh ironie. Australische onderzoekers van het La Trobe institute for molecular science in Victoria hebben ontdekt dat de bloemen van de tabaksplant een molecuul bevat dat kankercellen vernietigt, terwijl het gezonde cellen met rust laat. Onderzoeker Mark Hulett: "We have found gold in an unexpected place. The actual tobacco plant is not bad. Just what we do with it is bad."
– Tobacco plant may light the way to beating cancer, Australian scientists say; The Guardian, 2 april 2014.
5. Het Trimbos Instituut heeft een factsheet over de esig gemaakt. Het is geen eigen onderzoek, maar een literatuurstudie. Het Trimbos is gematigd positief, en ziet in dat de esig een goed hulpmiddel is om te stoppen met roken.
"Bij normaal gebruik lijkt het risico op acute vergiftiging op basis van de nu beschikbare kennis beperkt. Over de schadelijkheid van gebruik op de lange termijn, is nog onvoldoende bekend. Voor rokers lijkt desondanks het gebruik van de e-sigaret minder schadelijk dan blijven doorroken van de conventionele sigaret. Voor niet-rokers moet worden voorkomen dat het product een opstap tot het roken van conventionele tabaksproducten wordt."
– Trimbos Instituut: Factsheet esigaretten, 8 april 2014.
4. Meta-onderzoek naar de inhoud van uitgeblazen damp en van 'tweedehands' damp.
"Current state of knowledge about chemistry of liquids and aerosols associated with electronic cigarettes indicates that there is no evidence that vaping produces inhalable exposures to contaminants of the aerosol that would warrant health concerns by the standards that are used to ensure safety of workplaces. However, the aerosol generated during vaping as a whole (contaminants plus declared ingredients) creates personal exposures that would justify surveillance of health among exposed persons in conjunction with investigation of means to keep any adverse health effects as low as reasonably achievable. Exposures of bystanders are likely to be orders of magnitude less, and thus pose no apparent concern."
– Igor Burstyn: Peering through the mist: systematic review of what the chemistry of contaminants in electronic cigarettes tells us about health risks, BMC Public Health 2014, 14:18 (peer reviewed).
3. De voormalige voorzitter van het Amerikaanse Longfonds, Charles Connor, is volledig om en wil rokers liefst aan het dampen zetten. Volgens hem is dampen "the breakthrough product that gives the smoker an alternative." Connor gaat nu aan de slag als ambassadeur van het dampen en als consultant voor de e-sigindustrie.
– Ex-Lung Association Chief Leases His Lungs to E-Cigarette Industry, US News, 27 eptember 2013.
2. Dr. Paul Newhouse, directeur van het Vanderbilt University's Center for Cognitive Medicine, deed onderzoek naar nicotine. Hij meent dat de schadelijke effecten ervan zwaar worden overdreven en de positieve effecten ervan over het hoofd worden gezien. Tijd voor een herwaardering van nicotine!
– Study finds nicotine safe, helps in Alzheimer's, Parkinson's, Tampa Bay Times, 17 april 2014.
1. De Minnesota Vapers Advocacy dook in oud onderzoek en diepte het een en ander op over PG. Een kamer waarin propyleenglycol (het hoofdbestanddeel van e-liquid) is verneveld, bleek schonere lucht te hebben dan een 'normale' kamer. Soldaten die wekenlang werden blootgesteld aan PG-nevel, hadden aanzienlijk minder last van longinfecties dan andere soldaten.
– EPA & FDA: Vapor Harmless to Children, MNVapers, 14 april 2014