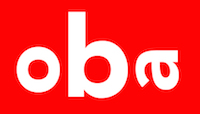 Vroeger kwam ik vaak in de bibliotheek op de Prinsengracht. Ze hadden een enorme hoeveelheid boeken plus een puike catalogus, maar het was geen vriendelijke omgeving. Je moest door controlepoortjes om erin of eruit te mogen; een tas mee naar binnen nemen kon niet, die moest in een kluis. Wie een versnapering wilde, was aangewezen op een café van schoolkantine-allure: je kon er koffie of frisdrank kopen, roze koeken en saucijzenbroodjes.
De nieuwe OBA bij Centraal Station was een verademing. Een ruim gebouw, met overal afgeschermde hoekjes om te werken, lezen, kijken en luisteren; een uitgebreid cultureel programma, met tentoonstellingen, lezingen, theater en live radio; een goed restaurant bovenin en een daverend druk café beneden. Je kunt er piano spelen, een boek lezen, naar muziek luisteren, voorgelezen worden, studeren, of gewoon zo maar wat rondhangen.
Jo Coenen maakte er een prachtig gebouw van: groot, maar intiem; openbaar, maar privé. Het is een uitnodigende, extreem open omgeving. En waar je je ook bevindt in de OBA, steeds is er dat fantastische uitzicht over de stad, die je blik naar buiten trekt… Soms, als het heftig regent of stormt, en ik fijn thuis verscholen zit, denk ik: ik zou nú eigenlijk naar de OBA willen, om daar vanaf de bovenste verdieping toe te kijken hoe de stad zich onder dit geweld houdt. En al jaren fantaseer ik over een nieuwjaarsfeestje in de OBA: om van daaraf te kunnen kijken naar al het vuurwerk boven de stad!
Maar au fond is het niet het gebouw of de locatie die de OBA bijzonder maakt. Toen ik mijn eigen muziekcollectie naar digitale bestanden wilde overzette, ben ik idioot vaak in de OBA geweest, jagend op cd-versies van oude elpees. Soms moest ik uitwijken naar een andere filiaal voor een specifiek album. Of ik nu naar Osdorp, de Indische buurt of naar Noord reed – telkens viel me op hoe groot het verschil was. In de OBA waren de medewerkers zonder uitzondering extreem vriendelijk en behulpzaam: iets uitleggen of een bestelling voor je doen, het was allemaal geen probleem.
In de plaatselijke filialen stuitte ik vaker op norsheid, bureaucratie en formaliteiten. Anders gezegd: op desinteresse, op mensen die gewoon hun werk wilden doen, maar acuut moeilijk gingen kijken zodra iets meer moeite vergde. Er zat aanzienlijk minder plezier in de filialen dan in de OBA zelf.
Dat kan 'm niet in het gebouw alleen zitten. Zo'n verschil in houding van de medewerkers moet te danken zijn aan het personeelsbeleid, en dus: aan de scheidende OBA-directeur, Hans van Velzen.
Toen ik hem een paar jaar geleden complimenteerde met zijn uitstekende en zeer gemotiveerde medewerkers, zei hij niet: 'Dank je wel,' maar: 'Oh, dat zal ik ze vertellen, dat stellen ze vast enorm op prijs!'
Dat is goed beleid in een notendop. Van Vezen eigent zich complimenten niet toe, hij geeft ze graag ze subiet door. Ik hoop dat de OBA nog lang naar zijn principes zal werken.