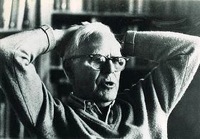 Vier weken na dato ontdekte ik dat Martin Gardner eind mei was overleden. De man is 94 geworden, dus heel onverwacht was het niet.
Gardner heeft prachtige annotaties gemaakt bij Alice in Wonderland, Through the Looking-Glass en The Hunting of the Snark. In zijn voetnoten traceerde hij de oorspronkelijke kinderliedjes die Lewis Carroll had verhaspeld, zocht-ie de schaakpartij uit die in Through the Looking-Glass wordt gespeeld en wees hij op filosofische kwesties die in de boeken verwerkt zaten. Aan de vraag wat er nu eigenlijk op moleculair niveau gebeurt als je in spiegelland terechtkomt, wijdde hij een paginalange voetnoot en uiteindelijk besloot-ie maar een heel boek aan the kwestie te wijden (The Ambidextrous Universe: Mirror Asymmetry and Time-Reversed Worlds. Dat is pas toewijding.
Gardner hield daarnaast, net als Carroll zelf, van wiskundige puzzels en schreef daar geestige columns over. En hij was een geducht skepticus,die met groot plezier kwakdenkers fileerde. Saluut, Martin Gardner, u was een held.