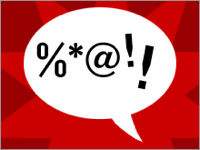 Wie zich bezeert en dan vloekt, voelt minder pijn dan wie niet vloekt of wie neutrale woorden gebruikt, zo blijkt uit een Brits onderzoek dat vandaag werd gepubliceerd:

The study, published today in the journal NeuroReport, measured how long college students could keep their hands immersed in cold water. During the chilly exercise, they could repeat an expletive of their choice or chant a neutral word. When swearing, the 67 student volunteers reported less pain and on average endured about 40 seconds longer.

Although cursing is notoriously decried in the public debate, researchers are now beginning to question the idea that the phenomenon is all bad. "Swearing is such a common response to pain that there has to be an underlying reason why we do it," says psychologist Richard Stephens of Keele University in England, who led the study. And indeed, the findings point to one possible benefit: "I would advise people, if they hurt themselves, to swear," he adds.

(via BoingBoing: 'Swearing mitigates pain'.)