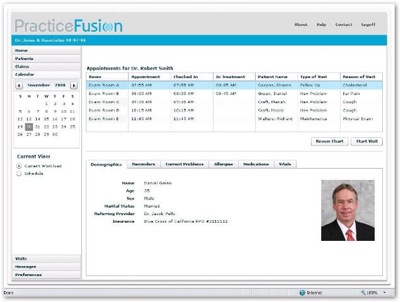 We horen steeds maar het het elektronisch patiëntendossier – het EPD – de gezondheidszorg veiliger zal maken. Door het EPD zullen er mnder fouten met medicijnen worden gemaakt. Dat is de theorie. Maar elke technologie schept z'n eigen fouten, dus ook het EPD.
In Nederland is in augustus 2005 gebleken dat de EPD's die bij apotheken worden gebruikt, bepaald niet foutloos waren. Door een rekenfout in de software werden van een aantal zare medicijnen (waaronder chemo) te zware doses voorgeschreven; het verhaal zingt nog steeds rond dat daar minstens één dode door is gevallen.
Een Amerikaans persbureau heeft via de Freedom of Intermation Act (de US variant van onze WOB) achterhaald dat in 50 ziekenhuizen vijf maanden lang – van augustus 2008 tot en met december 2008 – verkeerde medicijnen en behandelingen zijn voorgeschreven door fouten in het EPD. De patiënten werden niet op de hoogte gesteld en de ziekenhuizen hadden het voorval liefst geheim willen houden.

Patients at VA health centers were given incorrect doses of drugs, had needed treatments delayed and may have been exposed to other medical errors due to the glitches that showed faulty displays of their electronic health records, according to internal documents obtained by The Associated Press. [..]
The glitches, which began in August and lingered until last month, were not disclosed to patients by the VA even though they sometimes involved prolonged infusions for drugs such as blood-thinning heparin, which can be life-threatening in excessive doses. [..]
The VA's recent glitches involved medical data — vital signs, lab results, active meds — that sometimes popped up under another patient's name on the computer screen. Records also failed to clearly display a doctor's stop order for a treatment, leading to reported cases of unnecessary doses of intravenous drugs such as blood-thinning heparin."

De conclusie van deskundigen? Een EPD is leuk maar je moet het systeem enorm in de gaten gaan houden, en daartoe zijn we niet geoutilleerd.
Zie 'Veterans given wrong drug doses due to glitch. About 50 medical centers reported problems with electronic health records', MSNBC, 14 januari 2009, en Security.nl, 18 januari 2009.)