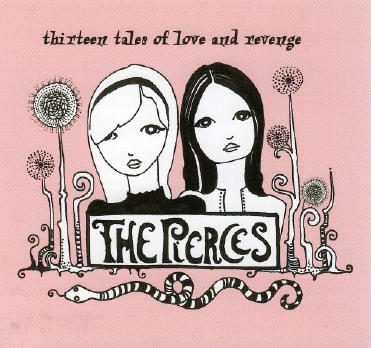 Afgelopen weekend kreeg de griep me te pakken: 39,5 koorts en alles erop en eraan. Zodat ik, tot groot plezier van de katten, dagen achter elkaar in bed heb gelegen. Dat betekent gewoonlijk ook: veel tv-series kijken. Gossip girl is geen geweldige serie maar goed vermaak voor een koortsig hoofd.
Tot in aflevering 10 ineens een vreemd liedje te horen was: vals en catchy, gestileerd en trashy. Het bleek gezongen te worden door The Pierces. Nooit eerder van gehoord en meteen opgezocht. Het blijkt een zusjesduo dat aanvankelijk folk-achtige dingen deed maar op hun derde album ineens een andere weg is ingeslagen. Er zit iets buitengewoon slick en netjes in maar ondertussen is er een boel meer aan de hand. Plus die stem die ineens zo lui verveeld kan worden, een beetje post-punk zelfs.
Zoals iemand in maart 2007 op Blogcritics recenseerde:

"…it would make the perfect background music to an amusement park created and run by Tim Burton. Wonderful, whimsical, eclectic, and soaring on the voices of Allison and Catherine Pierce, this is an album I could honestly believe was written during an absinthe fueled quick fire reading of the complete works of Shakespeare, should it have been annotated by Lemony Snicket."

So there. Luisteren en kopen. Niet alle tracks zijn even geweldig maar Secret is een parel.