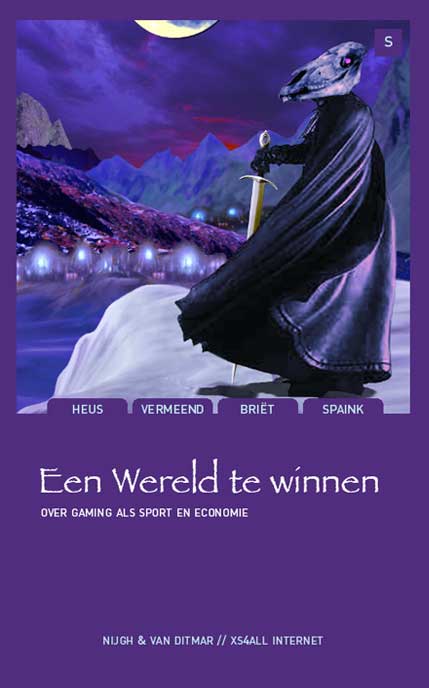 Details:
Een wereld te winnen: gaming als sport en economie – Uitgeverij Nijgh & Van Ditmar – Amsterdam, april 2006 – The Next Ten Years deel 2 – ISBN 90-388-6961-4 – 80 pagina's – Auteurs: Menno Briët (recht), Menso Heus (economie), Karin Spaink (sport)
Bestellen:
Flaptekst:
Over computerspellen spreken mensen meestal in termen 'goed' of 'slecht' voor kinderen. Dat computerspellen allang volwassen aan het worden zijn, dringt slechts moeizaam door. Er worden al geruime tijd wereldkampioenschappen in gaming gehouden. Ook in Nederland lopen gamers rond die een paar ton op hun bankrekening bij elkaar hebben gespeeld. Bedrijven beginnen gamers en te sponsoren. Er wordt zelfs voorzichtig geëxperimenteerd met gaming als televisiesport.
Binnen sommige games ontwikkelen zich complete economieën. Je kunt er handelen, je arbeid verkopen, een sweatshop opzetten of beroofd worden door bot bendes. Intrigerend wordt het waar de echte en de virtuele economie elkaar kruisen: wanneer mensen een virtueel eiland op eBay verkopen of wanneer scheidende echtparen ruziën aan wie de gaming-goederen toevallen in de boedelverdeling. Online games worden steeds echter en gaan daarmee op de gewone wereld lijken. Wat is dan nog het verschil tussen online en offline? Wat betekent het voor games als ze steeds meer op de alledaagse wereld gaan lijken? Wat betekent het voor de gewone wereld als games steeds reëler worden?