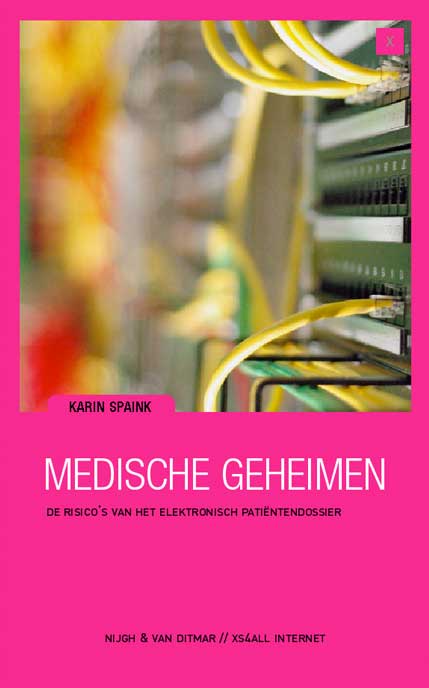 Details:
Medische geheimen: de risico's van het elektronisch patiëntendossier – uitgeverij Nijgh & Van Ditmar – Amsterdam, september 2005 – The Next Ten Years, deel 1 – ISBN 90-388-6959-2 – 78 pagina's – 2e druk 2006
Bestellen:
Flaptekst:
Het elektronische patiëntendossier (epd) dat vanaf 2006 wordt ingevoerd, moet bewerkstelligen dat artsen over en weer elkaars dossiers over een patiënt kunnen raadplegen. Door gegevens te delen, kunnen medicatiefouten worden voorkomen en wordt vermeden dat onderzoek dubbel wordt uitgevoerd. Dat maakt de zorg efficiënter en goedkoper, en voorkomt medische missers.
Een prachtig plan, maar niet zonder haken en ogen. Hoe zorg je dat alleen bevoegde personen toegang krijgen? Tot welk niveau krijgt de patiënt zelf toegang? Hoe veilig zijn al die persoonlijke gegevens? Wie kunnen er allemaal bij? Een elektronisch bestand dat duizenden patiëntengegevens bevat is via de computer makkelijk te kopiëren. Wat gebeurt er als een ziekenhuis besmet raakt met een computervirus? Waarom moeten we eigenlijk ineens allemaal een elektronische identiteitskaart krijgen?
Wat telt is de zekerheid dat er vertrouwelijk met medische gegevens wordt omgegaan. In dit boek onderzoekt Karin Spaink of het medisch geheim wel bewaard kan blijven in het elektronische tijdperk.
Presentatie:
De boekpresentatie wred nogal interessant, omdat we diezelfde week met een groep mensen een ziekenhuisdossier hadden gehackt. Een video van de presentatie is hier te zien. Let op: hij duurt 2 uur, maar je kunt fast-forwarden voor de juicy bits :)