IN 1991 TOURDE Type O Negative door Europa. Ze waren controversieel, dat wist iedereen, maar op grond waarvan was minder helder. Er waren geruchten dat Type O Negative fascistische ideeën zou aanhangen. De zanger van Type O, Peter Steele, had eerder de deathmetalband Carnivore geleid en zong daar nogal onverstaanbare teksten over de derde en vierde wereldoorlog. Carnivore stopte veel dood, nucleaire winters, machismo en barbarij in haar teksten; een muzikale pendant van de Mad Max-films.
Na het uiteenvallen van Carnivore richtte Steele Type O Negative op. Hun eerste cd Slow, Deep and Hard (1991) combineert metal met hardcore. De nummers staan vol uitgekiende tempowisselingen, mengelingen van symfonische muziek en gotische metal. De plaat werd goed ontvangen; totdat de teksten werden doorgelicht. Met name Der Untermensch moest het ontgelden, een nummer over junkies en werklozen, met zinnen als: 'Why don't you get a job … Get off society's back … You're a waste of life … Send you back to where you're from.'
Het is bepaald geen vriendelijke tekst, maar hij komt in een ander licht te staan doordat het nummer direct gevolgd wordt door Xero Tolerance, waarin Steele zingt over een 'type A personality disorder': 'Hatred obsessing me, hatred possessing me, anger burning me, anger turning me into someone I don't know.' In dit fragment en elders op de plaat wordt duidelijk dat de zanger dingen denkt die hij liever niet wil denken. Hij becommentarieert zichzelf. Hij beklaagt de kapot geboren babies van junks en de vrouwen die hoer moeten spelen voor verslaafde vriendjes; hij zingt over zijn dame die hem ontrouw is en deswege dood moet, en onderbreekt deze tirades met idyllische passages over hoe hij de liefde liever had gezien: 'I gave till it hurt, thought it was right' en 'there is no pain like that of desire'.
Hij wordt telkens weer gefrusteerd in zijn romantische verlangens, wat zijn woede wekt, en uiteindelijk wordt hij zichzelf vreemd. De plaat klinkt als het hatelijke, machteloze verweer van iemand die kopje onder dreigt te gaan. En waar dat vandaan kwam, heeft Steele keer op keer uitgelegd. Iets met een vriendin die ervandoor was. De hele wereld kon wat hem betreft even opvliegen. Zi­j voorop.
Van de op tekst- en interviewfragmenten gegrondveste geruchten dat Type O met racisme en fascisme zou dwepen, distantiëerde Steele zich geschrokken: 'Ik wil niet als fascist gebrandmerkt worden. Ik keur geweld af.' Vanuit Brooklyn stuurde Steele stapels faxen naar Europa waarin hij uitlegde dat hij weliswaar vond dat je junkies niet in de watten hoefde te leggen, maar dat hij racisme veroordeelde en van nazi's al helemaal niets moest hebben. Zijn spijtbetuiging sorteerde weinig effect. In Berlijn riep de kraakscene op tot acties en werden er zelfs posters geplakt met de oproep Steele te vermoorden. Vrijwel alle concerten in Duitsland en Oostenrijk werden verstoord of verhinderd door bezettingen, bommeldingen en demonstraties van linkse activisten.
In Nederland waren vijf concerten geboekt. Het eerste was in de Melkweg in Amsterdam. Die dag was er toevallig een linkse demonstratie in de hoofdstad. John van Luyn, programmeur van de Melkweg: 'Iets tegen Shell ofzo. Bij de demonstratie werden flyers uitgedeeld tegen Type O Negative. Ze zijn gewoon doorgelopen. Er kwamen honderdvijftig actievoerders de Melkweg binnenvallen. Ze hebben de leidingen doorgeknipt: elektriciteit, telefoon, alles, en eisten dat we het concert van die avond zouden aflasten. Ze hadden bovendien allerlei migrantenorganisaties en -omroepen gewaarschuwd, en die begonnen ook te protesteren. Niemand van hen had ooit van de band gehoord, maar ze wisten ineens allemaal heel zeker dat Type O Negative fout was. Het was hier een chaos en we konden niet anders dan het optreden cancellen.'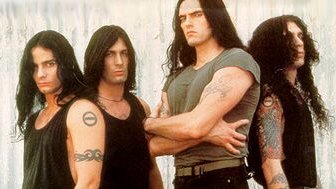 Gert Gering, programmeur van Atak in Enschede: 'We wisten dat ze controversieel waren, maar dat hebben we nooit geschuwd. Muzikaal vonden we ze een doorbraak. Ik heb hun teksten gelezen. Mijn politieke vriendje is-ie niet, maar ja: wat is serieus, en wat niet? En als je teksten gaat bestuderen zou er geen rapgroep meer geprogrammeerd kunnen worden. Dat er bij ska-concerten veel skins komen, daar hoor je trouwens nooit iemand over. Wat die protesten betreft, in die tijd speelde de verscherping van het asielbeleid en de neo-nazirellen in Duitsland. Maar wat deden die actievoerders? Op het vliegveld gaan liggen om uitzettingen te voorkomen? Nee, flyers verspreiden tegen Type O Negative. Er ontstond ook hier gedoe. We kregen een afgezant van de burgemeester op bezoek die ons duidelijk maakte dat ze twee rechtbankmedewerkers in de zaal wilden posteren om de teksten van de groep te screenen, en die zouden eventueel ingrijpen. Ja, onder die condities wilden wij natuurlijk geen concert, dat was regelrechte censuur. Afgelast dus. Ik heb die avond overigens maar twee skins gezien. Laatst hadden we Laurel Aitken, ska dus, en d'r stonden wel zestig skins. Aitken droeg nog een nummer aan ze op ook.'
Harry Hamelink, programmeur van Nighttown in Rotterdam: 'De De bezetting van de Melkweg kwam op het RTL- en het NOS-journaal. We moesten binnen een dag beslissen wat wi­j zouden doen. Er was zoveel negatieve aandacht dat het ons beter leek iedereen de pas af te snijden. We besloten het optreden niet te laten doorgaan.' Ook Noorderligt in Tilburg lastte af.
Alleen Scum in Katwijk hield stand. Marcel van Tol: 'We wisten natuurlijk van de onrust, maar we wilden het concert laten doorgaan. We kregen dreigbrieven en telefoontjes van activisten die meedeelden "geweld niet uit de weg te gaan". We hebben met de politie en de burgemeester gesproken, die vervolgens hun volle medewerking gaven om het optreden door te laten gaan. Wij wilden per se niet zwichten voor zo'n idiote manier van actievoeren. We waren erg op ons hoede, we hebben de ramen geblindeerd en de politie zou surveilleren. Maar Steele kon het niet meer aan. Hij was kapot van wat er allemaal gebeurd is en vloog terug naar New York. Uiteindelijk hebben er maar twee bandleden hier opgetreden. We waren vreselijk teleurgesteld. Die eerste cd van ze wordt hier nog steeds grijsgedraaid. Het is gewoon een wereldband.'
Type O bleef verdacht, wat ze ook zeiden of deden. Nog vorig jaar schreef muziekblad Oor: 'De vraag of Steele en consorten nu fascistisch en/of racistisch zijn, is onbeantwoord en blijft steken in een dikke vlaag mist. De actievoerders hadden beter naar de rechter kunnen stappen. Dan hadden we tenminste een onafhankelijke uitspraak gehad over Type O Negative en haar uitlatingen.' Pardon?

HET JAAR NA deze desastreuze tournee kwam The Origin of the Feces uit, een registratie van een quasi-live optreden in Brighton Beach, Brooklyn. Het is een gevecht tussen een band en een zaal. Al bij aanvang onthaalt het publiek de band op een gescandeerd 'You suck, you suck'. Steele heeft meteen een weerwoord. Het publiek betaalt om hem te zien terwijl hij betaald kri­jgt, 'so who's the real asshole here?' De hele opname blijft het venijn over en weer spatten. Er is een – al dan niet gespeelde – bommelding en zaalontruiming. Hondengeblaf. Sirenes. Een bierflesje knalt voor Steele's voeten uiteen. De aankondiging dat ze aan het laatste nummer beginnen, ontlokt gejuich.
Op deze cd staat ook Kill You Tonight, een combinatie van eerder opgenomen nummers. Daarin zingt Steele over een overspelig vriendinnetje dat elke zaterdagavond op pad gaat om mannen te versieren: 'Where there's a womb, there's a way'. Hij zingt over de bedrogene die zich verbijt, zich bezat, in de greep raakt van een groen monster dat jaloezie heet en uiteindelijk zijn bijl scherpt en op zoek gaat. Wanneer hij vriendin plus one-night-stand aantreft, vermoordt hij niet alleen haar maar tevens de meneer in kwestie. Hij is, heel politiek correct, voor gelijke behandeling, ook in deze: 'I'm an equal opportunity destroyer'.
Ook al een tekst die niet prettig viel, zeker niet onder feministen. (Men sprak over het luchthartig aanbevelen van vrouwenmoord sec.) Live is er echter meer aan de hand. Het achtergrondkoortje is nog pesteriger dan op de studioversie, waar het al tamelijk hilarisch klonk. Steele die bozig monkelt: 'I know you're fucking someone else', waarna de rest van de band hem in een vrolijk up-tempo jennend herhaalt: 'He knows you're fucking someone else', en dat dan tien keer achter elkaar ('I knohow' – 'He knohows' – 'I knohow' – 'He knohows' – 'I said I knohow' – 'He said he knohows', steeds sneller, ad infinitum, ad nauseam).
Vlak voor de dubbelmoord waarschuwt Steele de luisteraars: 'Second verse. Worst than the first!' Midden in het nummer zit een parafrase van Jimi Hendrix' oldtimer over Joe die eveneens op oorlogspad ging vanwege een overspelig liefje. Op een paar woorden na zijn de teksten identiek: 'Hey Joe, where are you going with that gun in your hand?' werd 'Hey Pete' met een bijl en Mexico werd Brighton Beach. Hendrix kwam ermee weg, met dat neerhalen van mevrouwen, maar die was dan ook populair en werd politiek oké bevonden.
Voor de tegenstanders van Type O die zich aan tekst-exegese overleveren, weet ik er nog wel een paar. De teksten zitten vol sneren naar politiek-correct denken en grappen. The misinterpretation of silence and it's disastrous consequences heet een nummer, en dat biedt vierenzestig seconden stilte. Zingen over haat en dat doen onder het label 'type A personality disorder' lijkt me een ironische verwijzing naar Adorno's theorieën over de autoritaire persoonlijkheid. Een nummer over ontrouw uitbrengen onder de spottende titel Unsuccessfully coping with the natural beauty of infidelity. Zingen over zelfmoord en dan schreeuwen: 'I can see God!' Volgens mij maken ze gewoon pretdeath.
De derde cd Bloody Kisses (1993), gothischer en met meer doom dan ooit, gooit er nog een flinke schep bovenop. Om elke beschuldiging van racisme uit te hollen, doen ze een nummer met als enige tekst 'Kill all the white people, then we'll be free', bijgestaan door een zwart rapkoortje. In een ander nummer legt Steele uit dat links ze voor fascist verslijt en rechts ze voor communisten houdt – dus waarom zouden ze zich van iemand nog iets aantrekken? In Black No. 1, dankzij MTV een flinke hit geworden, zit de grap die ik zelf het meest geslaagd vind. Over een nep-vampierdame met zwart geverfde haren zingt Steele: 'Your roots are showing. Dye 'em black.' 'Roots' verwijst in het Engels niet alleen naar uitgegroeide haarverf, maar fungeert ook als codewoord in het politiek-correcte denken (iemands 'roots' zijn schijnbaar onaantastbaar, de ultieme retorische dooddoener). Voor wie wars is van elke vorm van essentialisme, is die opmerking ronduit hilarisch. Op het tegelijkertijd op de markt gebrachte t-shirtje stelt Type O zich voor de zekerheid verantwoordelijk voor zo ongeveer alle grote rampen van de afgelopen twee millennia: van de kruisiging van Christus en de aantasting van de ozonlaag tot de Golfoorlog en aids.

ZOJUIST HEEFT TYPE O haar eerste echte Nederlandse tournee afgesloten. Nergens ontstonden rellen, gedeeltelijk dankzij een terughoudend persbeleid, gedeeltelijk dankzij het feit dat Type O zich met Bloody Kisses heeft gerevancheerd. De drie optredens waren glad uitverkocht en op het publiek viel nauwelijks iets aan te merken, behalve dan dat ze soms uit volle borst meezongen. 'Er waren wat hitserige verhalen bij de voorverkoop, maar er was werkelijk niets mis. Er waren twee skins bij hun optreden hier,' vertelt Van Luyn van de Melkweg, 'maar die zijn er altijd. We noemen ze onze huisskins. Maar skins hebben ook niets te zoeken bij deze muziek. Het is geen harde, agressieve muziek, het is eigenlijk heel romantisch. Alsof je de Sisters of Mercy vertaalt naar nu, naar een hoger plan. Ik hou wel van het dramatische dat ze hebben.' Harry Hamelink, programmeur van Nighttown: 'Het was een fantastisch concert. Steele wordt door leken als macho afgedaan, maar hij was juist heel toegankelijk, zocht veel contact met de zaal. Hij is stukken minder bitchy dan de meeste metalmuzikanten.'
En Steele zelf? Ik zat op een stoel in de kleedkamer. Steele, die ruim twee meter lang is, torende boven me uit en had zijn handen in zijn zij gezet. Hij keek achterdochtig naar beneden en wachtte niet op de eerste vraag. 'Nogmaals, ik heb die rellen niet gewild. Ik dacht dat mensen slimmer waren. Maar het lijkt nu over te zijn.' De verdedigingszinnen die inmiddels standaard zijn geworden, rolden uit zijn mond; maar dat wil ik allemaal niet weten. Ik zei het een goed concert te hebben gevonden. Hij keek nogmaals naar de diepte waarin ik schuilging. Het verschil was wel erg groot. Hij knielde aan mijn voeten.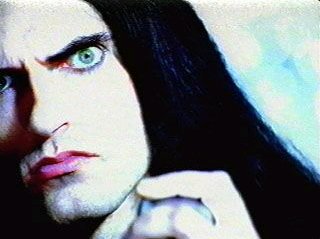 'Opgelucht. Het geluid was niet in orde, maar we konden eindelijk gewoon spelen.' Waren zijn teksten een commentaar op politiek-correct denken? 'Oh yeah! Wat je eet, wat je denkt, met wie je omgaat, met wie je vrijt en hoe – alles wordt tegenwoordig onder de loep genomen. We willen alleen maar spelen. We're just four musical clowns from Brooklyn, ik wil helemaal niet dat we zo serieus worden genomen.' Hij was uiterst vriendelijk jegens de zaal zeg ik, hij waarschuwde zelfs de stage-divers dat ze moesten opletten waar hun vrienden stonden, opdat ze niet crashten. (Er was een jongen geweest die het nummer Gravity al te letterlijk had genomen en met een lelijke hoofdwond was afgevoerd.) 'I just react. Als de zaal welwillend is, werkt het; dan kun je contact leggen, iets teweeg brengen. Wanneer het publiek agressief reageert, moet ik me in de eerste plaats staande houden. En desnoods terugschelden.' We praten wat door. Hij is de beminnelijkheid zelve. Wiskey? Bier? Nee, van Adorno heeft hij nog nooit gehoord, maar het klinkt interessant. Type A personality? 'That's me.' Een afwachtende blik. Hij wil de zaal in. Napraten. Fans ontmoeten.
'Volgens mij moeten ze nog eenmaal het clubcircuit in, om zich te ontdoen van die rare erfenis,' zegt Hamelink van Nighttown, 'en dan breken ze door. Ze zijn goed genoeg.' 'De volgende keer kan ik ze niet boeken,' zegt Van Luyn van de Melkweg. 'Dan zijn ze te groot.' Maar hij raadt ze aan een tourmanager te nemen. 'Ze hebben niet eens gecontroleerd hoeveel kaartjes ik heb verkocht. Ik verwed er veel onder dat ze zometeen in Duitsland per concert voor drie mille worden getild.'