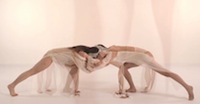 Via Bright stuitte ik gisteren op een prachtig filmpje. De beelden zijn vervreemdend, ontroerend, hartverscheurend en betoverend tegelijkertijd; maar au fond vooral simpel, en juist dat maakt ze zo aangrijpend.
Je ziet twee danseressen die elk gekleed zijn in dunne zijden jurken met daarop een print van andermans lichaam. Zodra de danseressen bewegen, golft dat tweede lichaam om ze heen. En omdat de zijde dun is en toch hun eigen lichaam verhult, zie je pas bij een verdubbeling – wanneer het op zijde geprinte lichaam met het dragende lichaam eronder – de contouren van beide lichamen verschijnen.
En die contouren veranderen steeds maar. Zolang ze bewegen, blijft zowel hun eigen huid als hun tweede huid ongrijpbaar. Je ziet hoe ze hun tweede huid langzaam van elkaars ledematen wegtrekken of verschikken. Je weet wat er gebeurt. Maar het effect blijft onnavolgbaar.
Ook hun gezichten zijn niet stabiel. Je ziet die veranderen wanneer daar een zijden gezicht overheen wordt getrokken, of juist er langzaam vanaf wordt gehaald. En zelfs terwijl je beide gezichten ziet, weet je niet meer waar je moet kijken en wat nu echt is/
Het geheel is sprookjesachtig mooi. Lichamen zijn hier soms niet anders dan een vel, uiterlijk vertoon: ineens blijkt dat de mens die in die huid verpakt is, anders is (of kan zijn) dan de buitenkant doet denken.
Hier kun je het filmpje zien. Het duurt helaas maar drie minuten – van mij mocht dit gerust een kwartier of zelfs een uur duren….
de bedenker van dit geheel is Imme van der Haak. Haar project is ook tentoongesteld in Londen, maar helaas lipe die tentoonstelling maar tot 1 juli. Anders was ik alsnog spoorslags afgereisd.