In the heathenish llama temple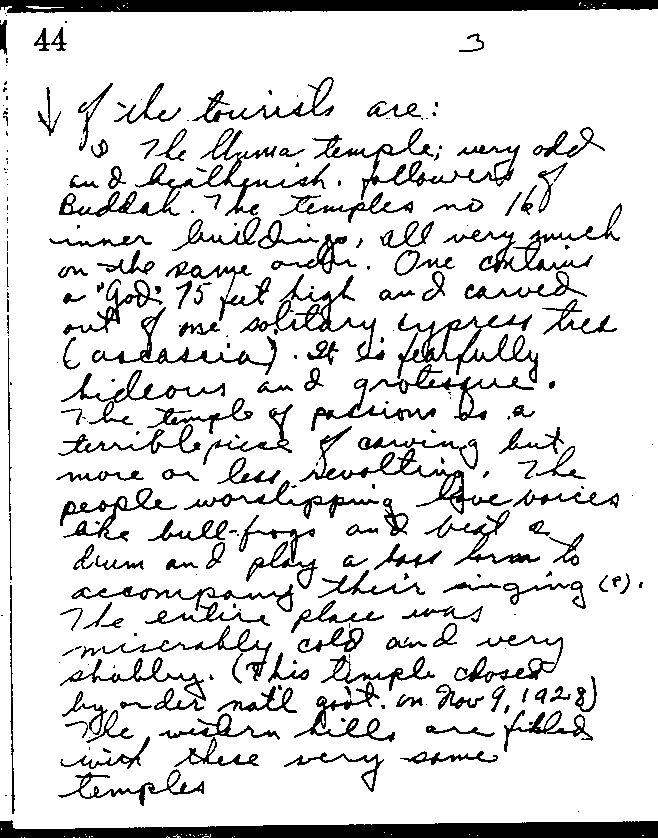 44
[The rubberneck stations]
of the tourists are:
1. The llama temple; very odd
and heathenish followers of
Buddah. The temples no 16
wooden buildings, all very much
on the same plan. One contains
a "God" 15 feet high and carved
out of one solitary cypress tree
(ascaseia). It is fearfully
hideous and grotesque.
The temple of passions is a
terrible piece of carving but
more or less revolting. The
people worshipping have voices
like bull-frogs and beat on
drums and play a bass drum to
accompany their singing (?).
The entire place was
miserably cold and very
shabby. (This temple closed
by order natl govt. on Nov 9, 1928)
The western hills are filled
with these very same
temples.
---
This particular page is very important, for a number of reasons:
Ron and his Church claim that he befriended the lamas and so, as Images of a Lifetime (1996) puts it, "became one of the first Occidentals after Marco Polo to gain access into forbidden Tibetan lamaseries". As the first line of the above makes clear, the Temple of Heaven - more usually regarded as one of the jewels of Peking - was merely a "rubberneck station of the tourists". Quite a lot of Occidentals had tramped through its hallowed portals, evidently.

It's also claimed that Ron was precociously interested in spiritual matters. In a later lecture - quoted in Images of a Lifetime - he said:

Oh, rituals of Zen Buddhism and talking about the possibilities of this or that in hereafters and nirvanas ... This was all quite common and ordinary to me."

This is hard to reconcile with his journal's description of the "very odd and heathenish followers of Buddah". It is considerably easier to believe an earlier comment, made in a 1951 Dianetics lecture:

I was in the Orient when I was young. Of course, I was a harum-scarum kid. I wasn't thinking about deep philosophical problems.

This shows that as Scientology developed into a "religion", he found it increasingly important to play up (or falsify) the extent to which his Oriental trips marked a religious awakening.

Ron is said to have visited China, the western hills of Manchuria, India and Tibet. He certainly visited China, as the journal shows. His one visit to India was a flight change at Calcutta Airport. He certainly never went to Tibet; the page shown above suggests rather strongly that his claims of visiting Tibet arose from a visit to a Tibetan temple in Peking, a very different thing. The western hills of Manchuria, where he is said to have "[broken] bread with Mongolian bandits [and] share[d] campfires with Siberian shamans", are actually just outside Peking. This is referred to in the final line of the extract above. He went this way when he visited the Great Wall of China, an event referred to on page 49 of his journal. It appears to have been a day trip organised by the Peking YMCA.


Last updated 6 Dec 1996