Burning the midnight oil at the Library of Congress

An essential element of the official L. Ron Hubbard life story is the time he allegedly spent in 1923 in the US Library of Congress, in Washington, DC. Under the tutelage of Commander Joseph "Snake" Thompson, a friend of Ron's father, it's said that
the commander spends many an afternoon in the Library of Congress teaching the young Hubbard what he knows of the human mind.
Images of a Lifetime (1996) puts a slightly different spin on it, showing Ron in his Scout uniform saluting outside the balustrade of an unidentifiable public building. The caption states:
Washington, DC; November 1923; At Library of Congress where, quite apart from his progress as a Scout, Ron conducted early research relating to the human condition.
(Ron is shown in formal uniform - surely an unusual occurance: it seems not improbable that the caption is incorrect and that the photograph actually comes from his meeting with Calvin Coolidge at a scout event held that year in the city.)

It's impossible to prove that Ron did not spend hours cloistered in the Library of Congress. However, his contemporary diaries show no interest in the human condition - the first hint of such comes in a rhetorical question about atheism from a 1929 journal. The image below shows a typical page from his 1923 scout diary. Although the specific entries predates his alleged meeting with Thompson, its content and tone is similar to the entries for the time (between November 1923 - March 1924) when Ron lived in Washington, DC.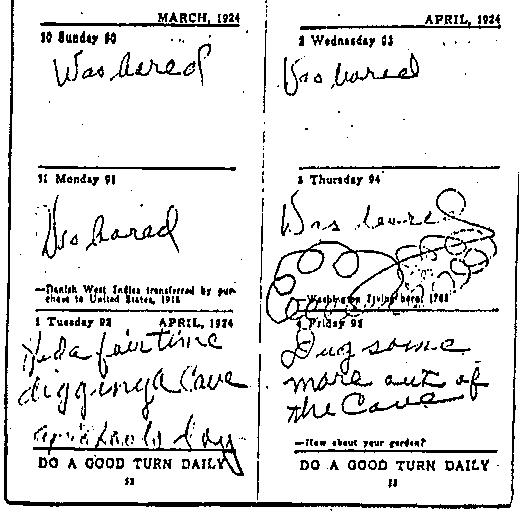 MARCH, 1924
APRIL, 1924
30 Sunday 90

Was bored

2 Wednesday 93

Was bored

31 Monday 91

Was bored

3 Thursday 94

Was bored

1 Tuesday 92

Did a fair time
digging a Cave
april fools day

4 Friday 95

Dug some
more out of
the Cave

DO A GOOD TURN DAILY

52

DO A GOOD TURN DAILY

53


Last updated 12 Dec 1996