Recommendation from Representative
Warren G. Magnuson, 8 April 1941

The following document is possibly forged - Warren G. Magnuson's library does not contain this letter (a highly unusual occurrence) and the signature is described as "a good likeness" - not much of a declaration of authenticity. Stylistically, it is distinctly Hubbardian, as a comparison with the letter purportedly from Senator Robert M. Ford shows. That, from Ford's own testimony, was written by Hubbard. There is a fair likelihood (perhaps an evens chance) that this, too, was forged by Hubbard.
Magnuson was Hubbard's Congressman. They had corresponded earlier in the year over a suggestion by Ron that the US Navy should set up its own Bureau of Information, both to improve the Navy's public relations and to counter the "defeatist propaganda" which, according to Ron, was "flooding the press".
---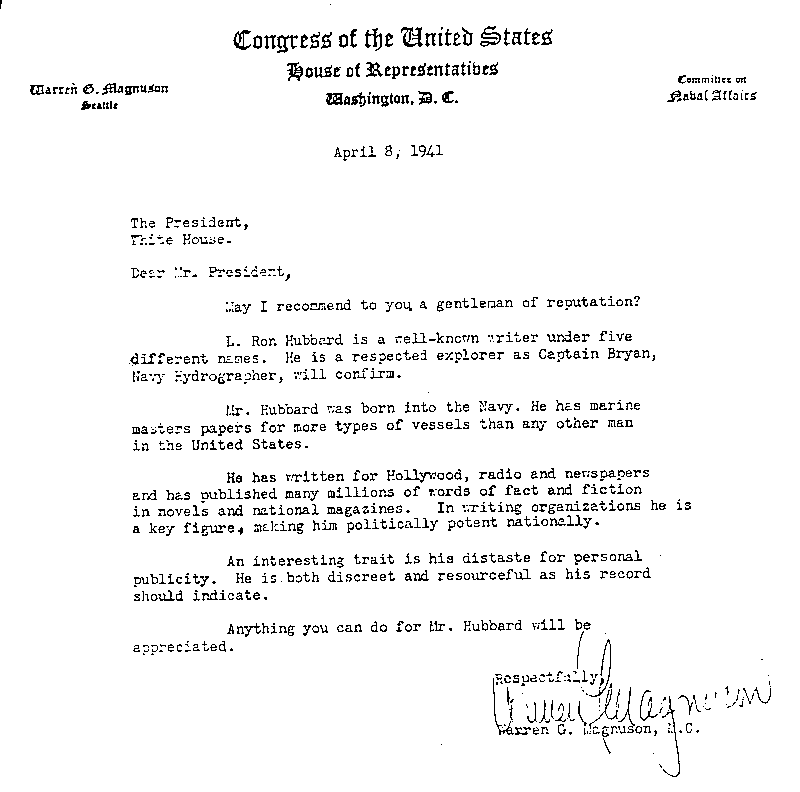 ---
The letter makes a number of false claims which clearly originated with Ron, as he repeated them in future years:
"He has marine masters papers for more types of vessels than any other man in the United States" - this is patently untrue. Hubbard received a License to Master of Steam and Motor Vessels in December 1940, and a License to Master of Sail Vessels (Any Ocean) in May 1941 - a month after this letter was written. It seems likely that there were more qualified sailors than he.

"In writing organizations he is a key figure, making him politically potent nationally" - Hubbard was certainly a well-known figure in the world of pulp writing, but his "influence" is debatable, to say the least. Pulp fiction was at this time still very much regarded as a "penny dreadful" genre - Magnuson's letter carefully avoids saying exactly what Ron actually wrote.

"An interesting trait is his distaste for personal publicity. He is both discreet and resourceful as his record should indicate" - few people who were familiar with the career of Captain L. Ron "Flash" Hubbard, barnstorming pilot extraordinaire, would have agreed with this claim. (See H. Latane Lewis II's 1938 letter to the US Air Corps).


Last updated 10 Dec 1996