Scientology infiltrates the US Government,
Dec 1975

The Church of Scientology had believed (correctly, as it turned out) that it was under intense scrutiny by the US Government and state authorities. In a minute of 26 November 1975, L. Ron Hubbard ordered the Guardian's Office (the "security agency" of Scientology) to
"very quickly pre-alert [me to] any trouble so I can go fishing until you handle.

AND WE COUNT ON YOU GUYS TO MOW IRS DOWN AND WIN ACROSS THE BOARDS."
These instructions were followed to the letter. The Guardian's Office initiated what Church lawyers described, in a 1979 case in England, as "robust American methods of defence" (sic). The following document, "GO Program Order 158", was a detailed breakdown of how Hubbard's order was to be implemented. Its circulation was restricted to just six people (including the authors) to maintain security. All six, plus five others including Hubbard's wife Mary Sue, were convicted in 1979 of crimes against the US Government and served several years in jail; upon their release they were formally expelled from the Church. Oddly, though, one of their number, Dick Weigand - also one of the authors of the following document - has been spotted in Colombia selling Scientology to the Colombian armed forces.

GO Program Order 158 is notable for its casual flouting of the law; note items 12, 14 and 21 in particular. It was clearly intended not simply to alert Hubbard to any legal trouble but to alert him to any inconvenience whatsoever, no matter how illegal the means might be. (The quality of this scan is rather poor, for which we apologise).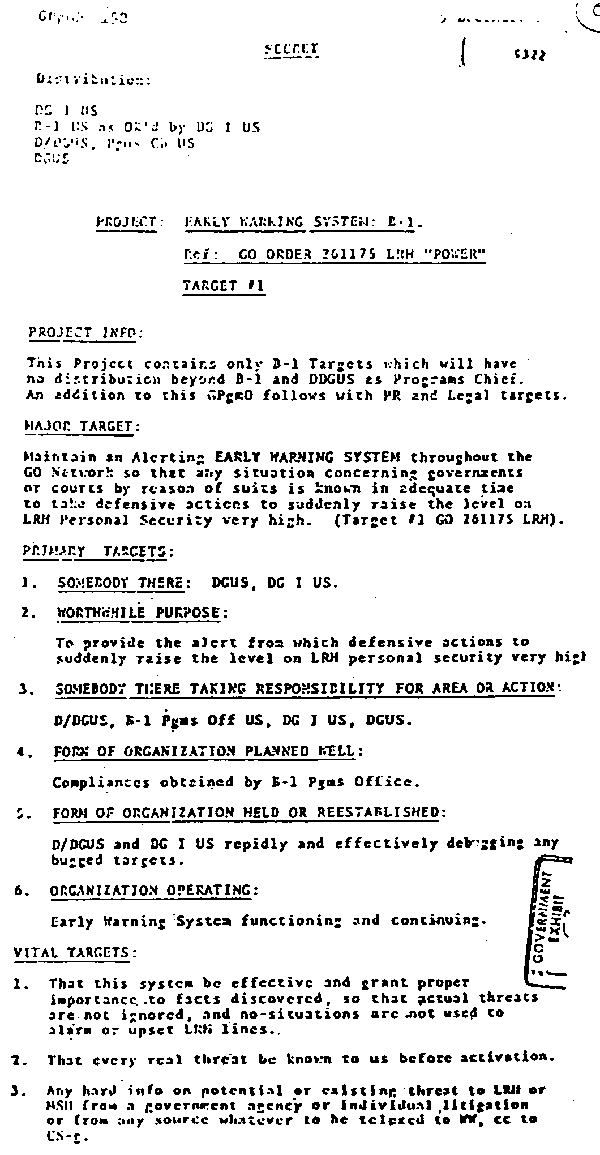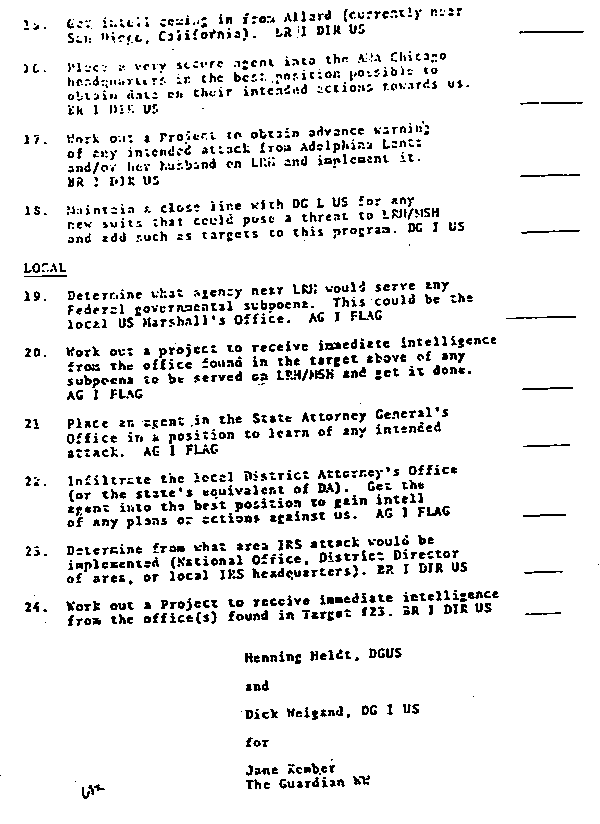 Last updated 3 Feb 1997