Was Ron really the youngest Eagle Scout in the US?

He always claimed to be, and it is naturally a line which the CoS still follows: an entire chapter of their new "photobiography" of Hubbard, Images of a Lifetime (1996), is entitled "Youngest Eagle Scout".
The real achievement of the season came ... two weeks after his thirteenth birthday, [when] L. Ron Hubbard was named the nation's youngest Eagle Scout. It was an accomplishment not soon forgotten. (After all, only some three thousand boys achieved their Eagle Scout status that year.)
It was indeed not an accomplishment soon forgotten, as Ron mentioned it to all and sundry at frequent intervals from the 1920s onwards. His memory was strangely lacking, though, as he consistently claimed to have achieved it at the age of twelve, as reflected in the biographical section of Mission into Time (1973).

But was it true? The first part certainly was. The following is an image of his actual Eagle Scout certificate, showing that one "Ronald Hubbard" of Washington State was awarded the certificate on 1 April 1924:
---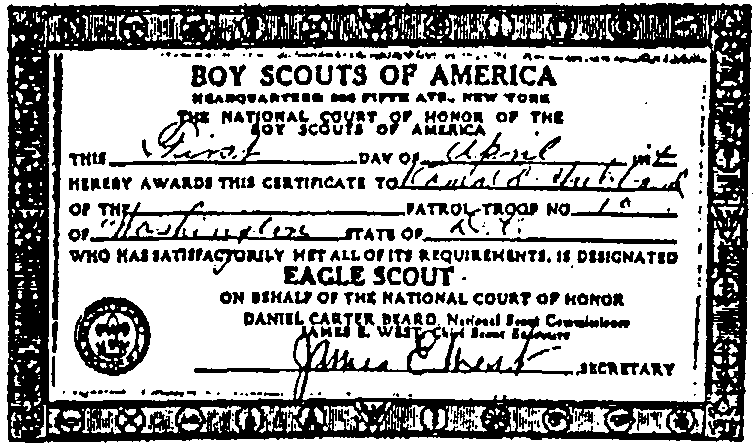 ---
That much is true, at least. But was he really the youngest Eagle Scout? The obvious people to ask were the Boy Scouts of America, who have administered the award since its inception in 1912. The reply was stunningly conclusive: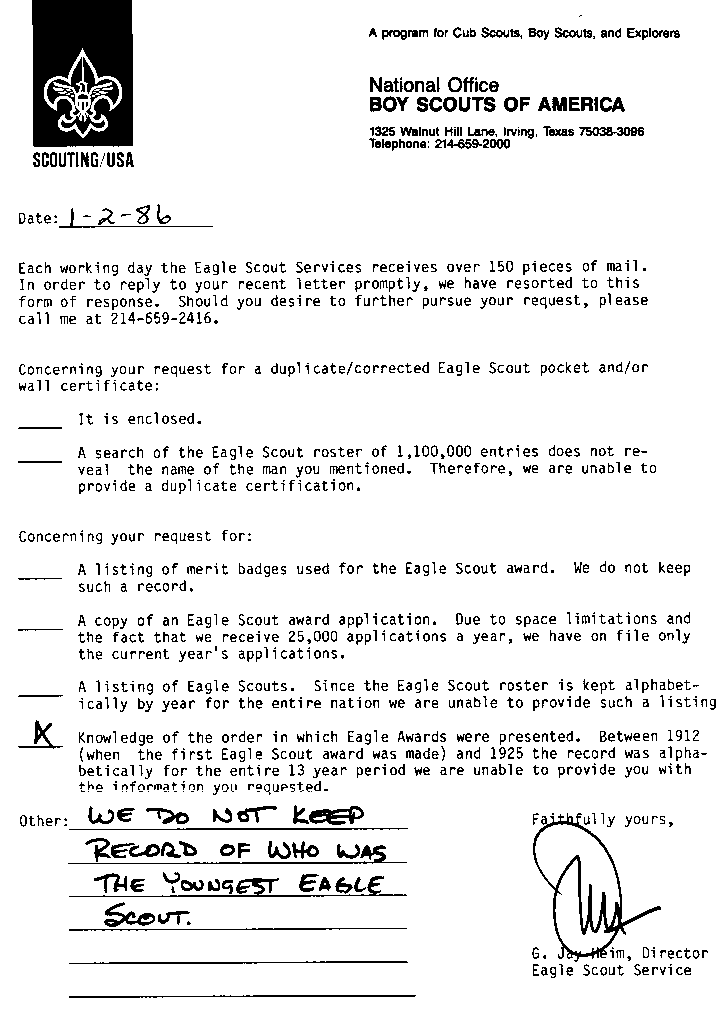 Evidently Ron was lying, then: there was no way that he (or anyone else) could possibly have known that he was the youngest, if no record of age was kept at the time. It isn't quite as simple as that, though. His Boy Scout diary contains the following entry: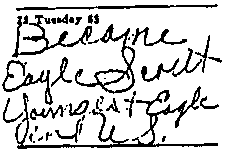 Note the date - 28 March 1924. This is three days before the date on the award. The reason why is uncertain. Both the diary and the certificate are thought to be genuine, so why the disparity?
Another unresolved question is why Ron had recorded in his diary that he was "youngest Eagle in the US". To the Scientologists, of course, the fact that Ron said it was so at the time clearly means that it is true. We can perhaps speculate that somebody had told Ron that he must be the youngest person to have received the award, and in his excitement he took this to mean that he actually was the youngest recipient. We will probably never know.


Last updated 12 Dec 1996