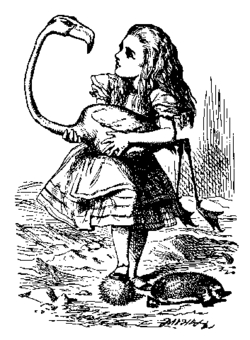 Twee liefdes komen samen: deze week las ik dat regisseur Tim Burton een verfilming van Alice in Wonderland op stapel heeft staan.
Alice is een oude liefde. Ik las Alice in Wonderland toen ik acht of tien was en raakte meteen in de ban van dat laconieke meisje dat zoveel vreemds overkomt. Ik heb dat boek – en de opvolger Through the Looking Glass and what Alice found there – vaak herlezen. De allermooiste editie is The Annotated Alice van skepticus en wiskundige Martin Gardner, met een fantastisch notenapparaat dat varieert van toelichtingen op verhaspelde kinderrijmpjes tot uitgebreide bespiegelingen over materie en anti-materie, en alle originele illustraties van Tenniel. Gardner heeft Alice immens verrijkt.
Jan Svankmajer heeft ooit een prachtige verfilming gemaakt, de meest absurdistische Alice die ik ken en daarom de mooiste. Maar nu waagt Tim Burton zich eraan: Tim Burton, de man achter het vreselijk mooie sprookje Edward Scissorhands, de bedenker van The night before Christmas, de regisseur van Mars Atttacks! en Ed Wood en van zoveel ander moois.
Fuck. Wachten tot 2010. If only time could fly. But at mad tea parties, it doesn't.